Portraits of actors, dancers, opera singers.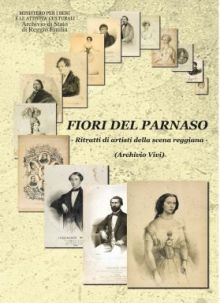 The Reggio Emilia State Records Office holds the papers of the Vivi brothers, Giovanni Battista and Pio, to whom the city council entrusted the treasury office of the Municipal Theatre for almost the entirety of the 19th century.
These papers, which were filed with the Reggio Institute in 1906, are incorrectly known as the «Vivi Theatre Archive», but this semantic imprecision is actually justified by the overriding alignment between the definition and the documentary evidence.
In fact, throughout their employment the Vivi brothers gathered an impressive amount of material strictly related to the activities of the Municipal Theatre, and hence to the artistic and cultural life of the city of Reggio Emilia.
Besides posters for performances and a large number of opera librettos, the «Vivi Theatrical Archive» contains a lot of portraits of the artists who performed at the theatre during the various seasons in the nineteenth century.
Most of the singers, dancers and actors depicted were the actual celebrities of the time, nearly all of whom tread the boards of the Reggio Emilia City Theatre (Teatro Municipale). Several of these names are still well-known today: this is true of Giuditta Pasta, for example, the singer who Bellini wrote Norma for, Rossini wrote Il Viaggio a Reims for and Donizetti wrote Anne Bolena for.
Adelaide Ristori was considered the greatest actress of her time; she triumphed not only in the major European theatres, but also in theatres in America, Australia and New Zealand. Upon her performance in Reggio Emilia in 1858, she was given a gold medal which was coined specially for the occasion.
Cagnoli dedicated a poem to the Reggio Emilia native Rosalinda Silva (née Grossi), whose life was cut short in 1804, when she was only 27 years-old after contracting typhus in Venice. She was buried in the Church of St. Teresa.
Carolina Ungher's fame is demonstrated by the very marble bust which was dedicated to her to mark her performances in Reggio Emilia in 1837 and 1838, along with the laudatory poems written by Viani, Peretti and Cagnoli.
These and many other names are the artists and composers depicted in portraits. The booklet Fiori del Parnaso (Flowers of Parnassus), as well as offering a synopsis of the history of the Reggio Emilia City Theatre and its seasons, includes artistic and biographical insights into all of the performers featured.